Sustainable Development Goals (SDG)
SDG 18 is an unofficial Sustainable Development Goal fostered by civil society, with the purpose of promoting Active Empathy for Life at a global level and contributing to the adoption of the 17 United Nations SDGs.
We believe it is essential that new generations grow up with active empathy for life so that the SDGs may progress sustainably.
Our initiative to recognize nature, or as we call her, Mother Earth, as our teacher is based on this goal.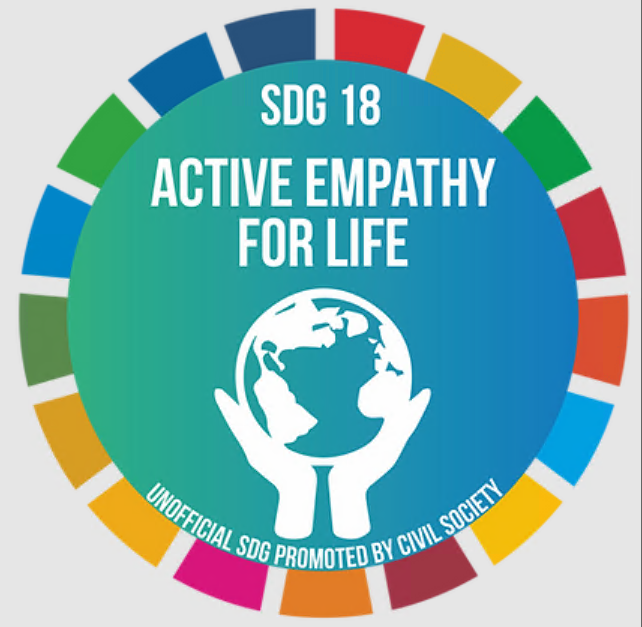 These are some of the documentaries we are watching and that we highly recommend ….
---
The Beginning of Life
Genuine connections between children and nature can revolutionize our future. But is this discovery still possible in the world's major urban centers?
Invisible Hand
From Executive Producer Mark Ruffalo comes the world's first documentary film on the Rights of Nature Movement, a "plot-twisting, eye-opening" story about the current global battle between capitalism and democracy where the fight for our survival is at stake.
Kiss the Ground
The must-see trailer for Kiss the Ground. Watch it and discover a simple solution for climate change. The full-length film is now streaming on Netflix!
My Octopus Teacher
A filmmaker forges an unusual friendship with an octopus living in a South African kelp forest, learning as the animal shares the mysteries of her world.
David Attenborough: A Life on Our Planet
In this unique feature documentary, titled David Attenborough: A Life On Our Planet, the celebrated naturalist reflects upon both the defining moments of his lifetime and the devastating changes he has seen.
Jane Goodall: The Hope
The next chapter of Dr. Jane Goodall's life's work unfolds in "Jane Goodall: The Hope," premiering on Earth Day, April 22, at 9/8c on Nat Geo, Nat Geo WILD and Nat Geo Mundo. The two-hour documentary special will take viewers through chapters of Dr. Goodall's journey in the 60 sixty years since her groundbreaking discoveries in Gombe researching wild chimpanzees, including her activism, creation of her non-profit organization.
Fantastic Fungi
Directed by Louie Schwartzberg, is a consciousness-shifting film that takes us on an immersive journey through time and scale into the magical earth beneath our feet, an underground network that can heal and save our planet.